Request for a Tutor
This is a
free service
for all parents and students who are looking for
long-term
(more than 3 months) home tutors with
no hidden cost
. We are able to operate because tutors pay us a small portion of the tuition fees as commission.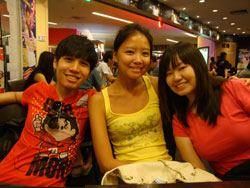 Smart Tuition Singapore values all our clients
. We place the students' interest as top priority and do our best to find the most suitable home tutors for them. We will never recommend tutors who do not suit the particular job (tuition assignment) just for the sake of closing it.
We judge our home tutors through every single interaction with them, such as the effort they spent in our tutor sign up form, verification process, emails exchanged and even phone conversation. Most importantly,
we get feedbacks from parents and students about them
.
We believe no tutor is the best tutor for everyone. For instance, a very experienced home tutor may not be comfortable with tutoring students of the opposite gender and a student may prefer different tutoring style and pace. It takes two hands to clap.
Therefore we try our best to match both tutor and student as accordingly to both parties' preferences. We have already collected detailed information from our registered home tutors.
Please provide us with your information and requirements as detailed as possible
, so that we can find the best tutor for you.
If you like our service, kindly recommend us to your friends and relatives.
Request for Singapore Home Tutor Form
Like this page? Share with your friends! Please
link us
in your website/blog!
"Without education we are in a horrible and deadly danger of taking educated people seriously." - Gilbert Keith Chesterton